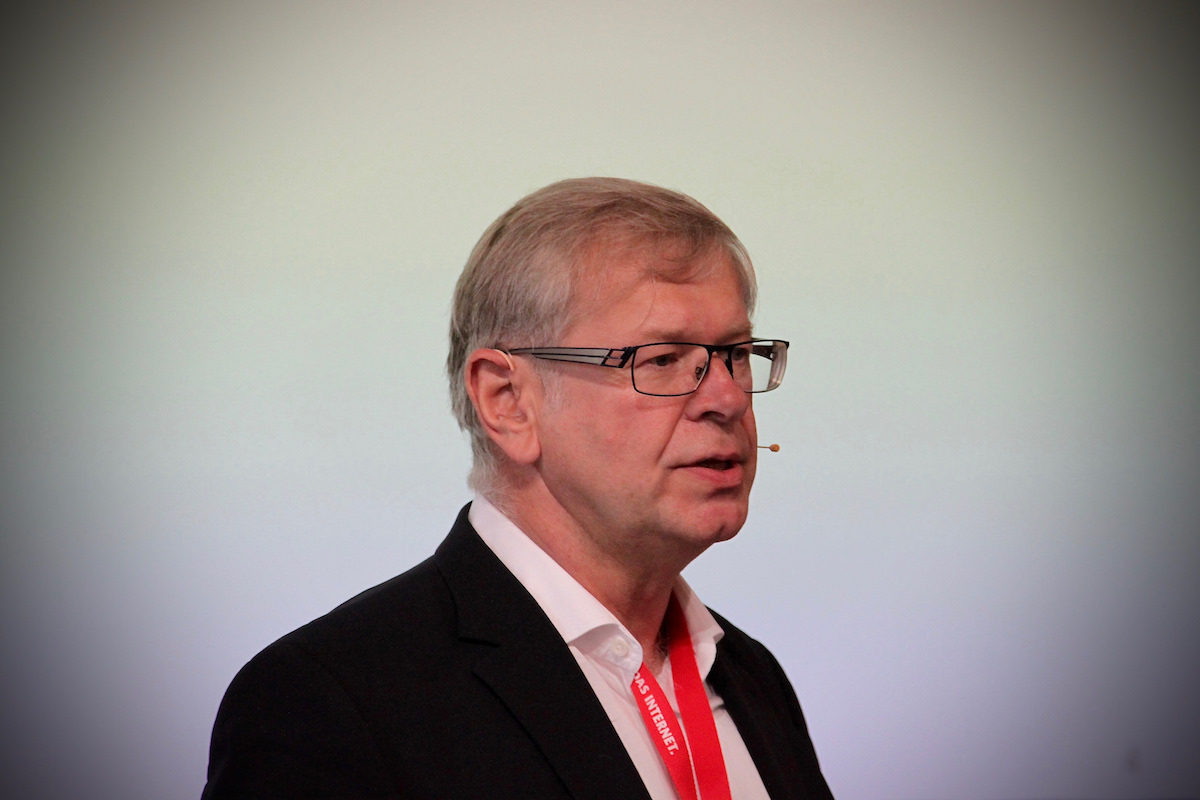 Photo: Arnold Nipper, Chief Technology Evangelist, DE-CIX

Voices from the eco LocalTalk & CINIA launch event in Frankfurt – Part 2/3

CINIA Group successfully celebrated their launch of the new cable system C-Lion 1 at 19 May 2016 in Frankfurt. Read more about the stories about the world fastest undersea cable with a capacity of more than 1 billion ISDN lines. Kicking off the second half of the CINIA Launch event with the first of four Spotlights for Digital Transformation, Arnold Nipper, Chief Technology Evangelist at DE-CIX, spoke about "How to build an ecosystem around Datacenter and DC Connectivity".
In 10 years we will no longer talk about the Internet at all – it's simply content
Such an ecosystem includes data centers, carriers, buyers/sellers and the competition. Nipper broke the process down into four steps:
First, build a community by thinking about local connectivity. The more data centers there are in an area, the more affordable connectivity. Bring people together (a small piece of a big cake is better than a big piece of a tiny cake), do so regularly and attend industry meetings like Global Peering Forum, European Peering Forum, DENOG.

Next, build gravity and diversity. Every hub needs a unique selling proposition (e.g., Frankfurt – ideally located between East and West, North and South; Palermo – landing point of sea cables; North America/Nordics – cheap power).

Make your hub attractive by dealing with regulators, spreading the word, establishing one-stop offerings and partnerships. Stay competitive and define your particular customer base and market segments.

Lastly, create new opportunities. Adding a new market also attracts prospects from existing markets. CINIA's new high capacity, low latency connection will enable competitive offerings both in the Nordics as well in Germany.
Growing global flows and the development of metro centers of digital density
Enterprises are now becoming global more quickly and need much more connectivity. Cross-border interregional bandwidth has increased rapidly over the last few years to 24,405 gigabits/s in 2014.
Michael Winterson, Managing Director of Equinix Services Ltd., spoke about the new IT infrastructure that enterprises need for this interconnected business environment. Enterprises need to interconnect their people, locations, data and cloud applications to a much greater extent than in the past and have to process significantly larger quantities of data.
Equinix has noticed a growing tendency for enterprises to use data centers in multiple locations globally. 53% of their customers are in all three regions; Americas, EMEA and Asia-Pacific, while 81% are in multiple metropolitan areas. They need new systems that can be quickly connected together and run across regions. Start-ups are also going global from day one – it's not just the big names like Deutsche Telekom. General Motors used to have two data centers worldwide, now they have eight small data hubs, as they need vastly more connectivity than previously.
Companies are also connecting more and more across industries; networks, financial services, cloud and IT services, content and digital media and other enterprises. Equinix connect over 2,000 company pairs a month and expect this to continue to increase.
This massive surge in interconnectivity is hugely significant for Finland, with its huge high-tech community and human capital that it needs to connect into the global backbones that are being built. Finland has huge amounts of real estate, lots of low-cost power and beneficial climatic conditions - and now great connectivity to western Europe. All this makes it the ideal location for data centers to be built – far cheaper than building in Amsterdam or Frankfurt.
Energy costs three times as much in Germany as in Finland
Hetzner Online was the first customer for CINIA's C-LION1 submarine cable.
Arno Pirner, Head of Sales and Product Advice at Hetzner Online GmbH, explained why the German company decided to build their first non-German data center in Finland.
A major deciding factor was Finland's much lower energy prices; €56.05 per MWh in Finland, compared to €151 in Germany in 2014. The cool Nordic climate is ideal for running a data center park. Other factors were Finland's excellent IT infrastructure and its proximity to fast growing IT markets in Eastern Europe and Russia. Also significant was that Finland is part of the EU, which helps in regards to data security, attitude and political stability.
Connectivity is good for employment and good for the environment.
Adrianus Melkert of the NxtVn Group, discussed the role the Northern Digital Highway plays for data center investments and connectivity. CINIA's new sea cable fits in with a series of global developments. A key objective of international organizations like the various development banks and the OECD is to increase connectivity, for example in the "Global Connect Initiative".
There has been a shift of geostrategic focus to the Arctic Ocean; a place where Europe, North America and Asia meet. Investing in the infrastructure to get there, as CINIA plans on doing, has huge potential for global connectivity. Melkert was very impressed by the speed of implementation of CINIA's C-Lion1 cable – less than two years from planning to opening for business.