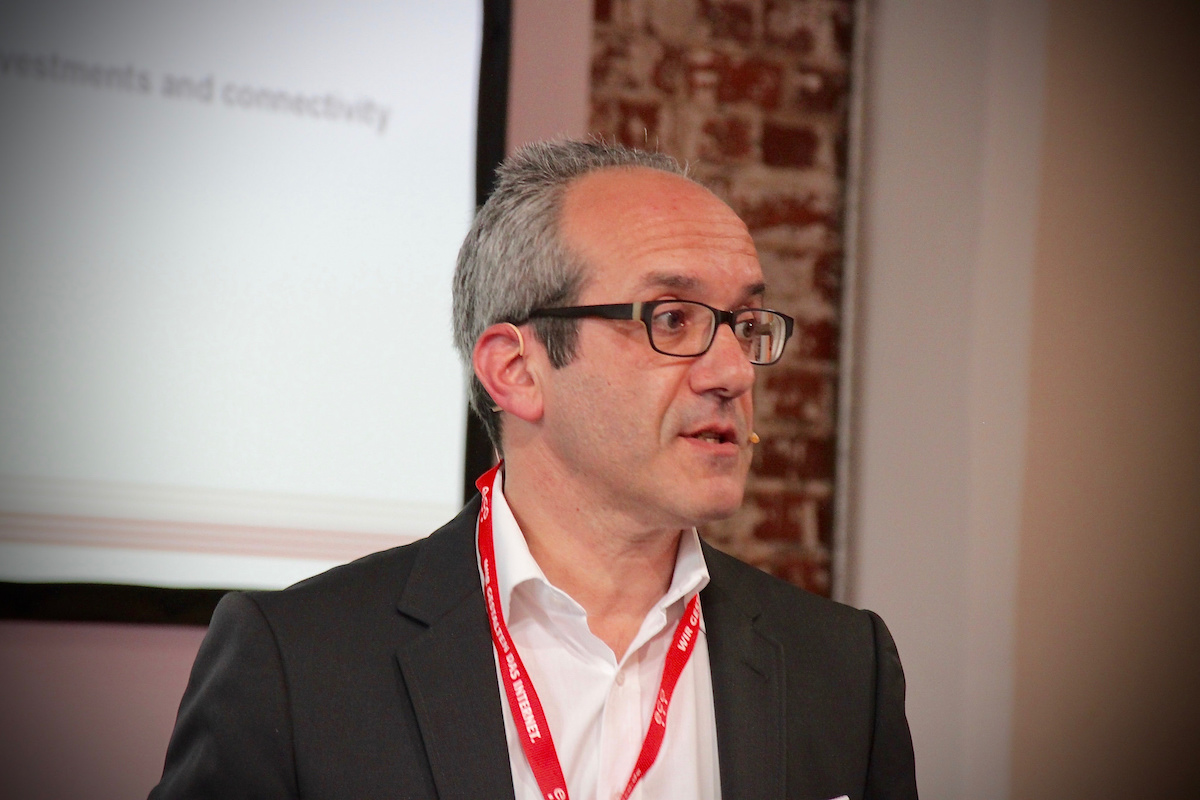 Photo: Béla Waldhauser, CEO Telehouse Deutschland GmbH

Voices from the eco LocalTalk & CINIA launch event in Frankfurt – Part 3/3

CINIA Group successfully celebrated their launch of the new cable system C-Lion 1 at 19 May 2016 in Frankfurt. Read more about the stories about the world fastest undersea cable with a capacity of more than 1 billion ISDN lines.
The speakers explored current research on data centers and networks. This evening event was held shortly after the grand opening of CINIA's Northern Digital Highway, the new submarine cable between Helsinki, Finland and Frankfurt, Germany.
Jukka-Pekka Joensuu, Executive Vice President, CINIA Group Ltd., welcomed the approx. 150 guests and called for international investments in Internet infrastructure. Data requirements are growing exponentially and infrastructure is needed to enable that growth.
There is not enough infrastructure for growth at the moment, which is why more governments need to invest in Internet infrastructure, just as the Finnish government did in CINIA's C-Lion1 cable. Any enterprise wanting to digitalize their business needs to ensure their connectivity and infrastructure. Companies like Google and Facebook are buying up as much cable and fiber as they can, as they need connectivity to continue to operate.
The R&D Keynote looking at SDN in Data Centers was held by Christoph Dietzel, DE-CIX / TU Berlin. Data rates within data centers are exploding. There was a 50-fold increase in data rates between 2008 and 2014 within Google's data centers.
Such massive growth brings a number of networking challenges; the limited capacity of the hardware, how to cope with increasing computing power and the fact that protocols target individual switches/routers. Only a few of the hardware and protocols in use today were actually written for data centers.
A solution for some of these problems could be SDN, or Software-Defined Networking. DE-CIX is one of the partners in the EU-funded research project Endeavour. The focus of the project is to enable added-value services to be provided with the aid of Software-Defined Networking (SDN), on top of Internet Exchange Points and other network interconnnection fabrics. This is an opportunity to innovate the core of the Internet and to provide more visibility and control for customers. With central configuration of all devices, SDN will simplify networking.
How data center operators can transition to full service providers was the subject of the next talk given by Ulrich Schälling, Head of Business Line Networks, FNT GmbH.
There is a lot of competition in the data center market. From a market perspective, connectivity, location, managed hosting, and public-private cloud strategies are the topics that are driving the market and are crucial in the evolution to a full service provider.
Connectivity can be improved by improving the network. There are two major challenges for DC operators after improving their networks: operating the network in a cost-efficient manner and improving the efficiency of the service delivery chain.
Among Schälling's recommendations for DC operators was the advice to standardize and modularize their range of products & services. Modular service components can be used in various service offerings, improving the efficiency of the overall service.
infinera's Jörg Ruhmann, Head of DACH and Central Europe, talked about how to address the bandwidth problem efficiently in data centers. The solutions and resources that we have today will not fulfill tomorrow's demand. Current infrastructure is barely providing enough capacity for current usage, which is increasing exponentially.
Automation, process optimizations and technical innovations like Software-Defined Networking (SDN) will only create limited amounts of increased capacity. Data centers need to plan and create significantly more capacity than they actually need right now in order to have that capacity down the road.
This is what Infinera has done. Their Photonic Integrated Circuits (PIC) deliver massive scale; in 2004 100 G/s, now 500G/s and the next generation will have 2.4 T/s, all in the same production process.
In the round table discussion on Networks – Bringing the world together, seven data center practitioners took to the stage; three of the keynote speakers, Christoph Dietzel, Ulrich Schälling and Jörg Ruhmann, were joined by Moderator Dr. Béla Waldhauser, CEO,Telehouse Deutschland GmbH, Donald Badoux, CEO, Equinix Germany GmbH, Frank J. Zachmann, Director Strategy and Marketing, Interxion Deutschland GmbH, Marc Wilkens, Senior Consultant, proRZ Rechenzentrumsbau GmbH and Dr. Christopher Balzereit, Senior Trainer & Consultant, ExperTeach GmbH.
Dr. Béla Waldhauser moderated the panel discussion, which summarized the talks so far and highlighted what the speakers see as the key issues for data center operators in terms of networks. Badoux believes cooling, power and square meters are no longer the driving issues for data centers, rather connectivity, the global footprint customers need and access to the cloud.
Balzereit observed that the technology used in data centers is being simplified, with automation and computer programs. Connected data centers are the future, according to Wilkens. The key business opportunity for data centers now is the cloud, Zachmann forecast.