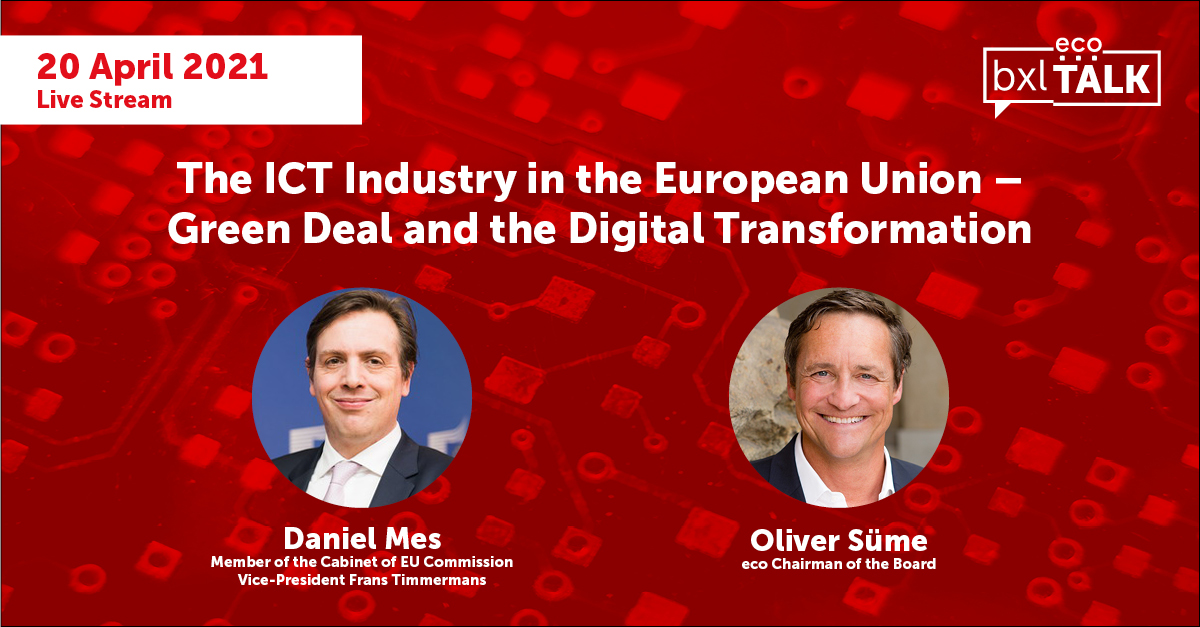 eco BXL Talk
Digital transformation and climate change are the two greatest challenges of our time. We are experiencing a structural change and digitization is set to play a central role in climate protection.
Technology offers huge potential when it comes to finding solutions for today's problems on energy consumption and environmental pollution. Billions of Euro are budgeted throughout the EU to be invested into technological improvements, reaching higher efficiency and sustainability as well as finding new ways of generating and recuperating energy. Not too long ago, companies had their own mainframe computers or servers which were mostly idling during their lifetime, using electricity, generating heat and having used resources to be built in the first place. Nowadays cloud services offer the same resources and in the form of hyperscalers do so via adaptable solutions regarding capacity or performance, allowing the user to run on a minimal capacity and expand on point when and if necessary. These cloud services are hosted in data centres all over the globe and connectable through the Internet.
Smart(er) cities help to reduce traffic and accidents with the use of 5G and AI. Smart homes can turn on your appliances or charge your car when consumption is generally lower. Mobile solutions facilitate the use and thereby allow the spread of shared commodities, e.g. bikes or cars.
The spread of the SARS-CoV-2 virus and the accompanying pandemic have highlighted the importance of digital infrastructure. Digital technologies help to sustain economic, political and social life. The operators of digital infrastructure and the Internet industry are more systemically relevant than almost any other industry. At the same time, however, it also became apparent in which economic, social and governmental areas there is still a need to catch up in terms of digitization.
These are just some of the potential fields of action. All in all, the potential seems huge and money is being made available but the time is running. So how and where do we start? What does the ICT industry need from the EU and the regulators? What role can digitization play in climate protection? What could be the EU's ideas and measures? What should we all put our focus on? Some of these and other questions eco would like to discuss in
a virtual chat between
Daniel Mes, Member of the Cabinet of EU Commission Vice-President Frans Timmermans
and
Oliver Süme, eco Chairman of the Board.
AGENDA
11h00

Virtual Discussion

Daniel Mes, Member of the Cabinet of EU Commission Vice-President Frans Timmermans

Oliver Süme, eco Chairman of the Board.
EVENTTEAM
Fragen, Anregungen und Wünsche einfach an uns!